(Click here to Listen to 'Channel Dash Heroes' The talking book)
On 12 February 1942, 18 young men of the Fleet Air Arm flew 6 fabric-covered Fairey Swordfish Torpedo Bombers from RAF Manston in Kent, at little more than 100mph to attack in the Straits of Dover, the largest German Battle Fleet ever assembled.
The fleet included the Battleships Scharnhorst and Gneisenau and the Cruiser Prinz Eugen, protected by 6 Destroyers, 40 Flak Ships and more than 200 fighter aircraft. All of the Fairey Swordfish were destroyed and only 5 of the aircrew were rescued alive from the cold, dark waters of the Straits.
The Daily Mail reported at the time;
"This is an episode of which Britons can be rightly proud. In planes which, against the German protecting aircraft, were as slow as a cart horse compared with a motorcar, 18 men of the Fleet Air Arm flew over the Channel. Crippled and ablaze before they got within range, they kept on, delivered their attacks - and died!"
The Admiralty predicted that the German Battleships would come through the Straits of Dover at night and a sophisticated plan of co-operation between 32 Motor Torpedo Boats and 6 Torpedo carrying Fairey Swordfish aircraft was devised to mount a converging attack on each side of the ships' bows, lit by flares from the aircraft. The crews practiced this from the start of February but just 2 days before the attack, the Admiralty decided that the threat level had lowered. They removed most of the MTB's, leaving only 6 boats in Dover at 4 hrs. readiness.
825 Squadron were reforming after having lost their aircraft when the Aircraft Carrier HMS Ark Royal was sunk. 3 replacement aircraft were to be collected from storage at Campbeltown in Scotland and Petty Officer WJ Clinton was detailed to go there to check-out polar diagrams for the replacement aircraft. He had arranged a date with his fiance in London for that particular weekend, and as CPO Les Sayer's wife was living in Scotland, he willingly agreed to swap duties. Les had previously flown with pilot "Percy Gick" in the attack led by Esmonde against the Bismarck but now as CPO, he would fly with the CO. In his place however, CPO Clinton became Senior TAG and so it was his lot to accompany the CO.
6 aircraft were sent to RAF Manston but 7 pilots were available. So, on the morning of 12th February, the 2 most junior pilots, Sub Lt Peter Bligh, and Sub Lt Bennet tossed a coin to decide who should fly. Peter Bligh called tails and flew whilst Bennet stayed on the ground.
Since they arrived at RAF Manston, on the morning of 4th February 1942, 825 Naval Air Squadron consisting of Fairey Swordfish had been on 5 minute standby but on 11th February as there appeared no real threat they were stood down. Their CO, Lieutenant Commander Eugene Esmonde, had a very important appointment in London on that day to receive the award of Distinguished Service Order from HM King George VI at Buckingham Palace, for his part in the attack on the Bismarck 7 months earlier.
Squadron Senior Observer Lt Williams, took the opportunity to visit his mother and family who had been evacuated from their Leigh-on-Sea home to Ruskin Manor, Denmark Hill in London. He received a telegram recalling him to RAF Manston but with an air raid in progress no public transport was running. Jack Hulbert, a well known variety artist who was a war reserve policeman and as such had a petrol ration, was visiting a friend who had also been evacuated to Ruskin Manor. When he understood just how important it was for Lt Williams to return to RAF Manston he readily agreed to drive him there.
That evening some RAF Officers together with the Fleet Air Arm flying crews arranged a small party to celebrate with Esmonde the award he had received that afternoon. The party ended reasonably early and soberly, for the Fleet Air Arm aircrews had to be standing by their aircraft at 0400 hrs. ready for take-off. This was a routine alert for the pre-dawn critical danger period, which the Admiralty believed the Germans might use to attempt to slip through the Straits. By dawn they were stood down again on a cold crisp morning with freezing snow swirling over the runways at Manston. In the corner of the dispersal area of the aerodrome 6 obsolete biplanes stood alone, fully exposed to the elements.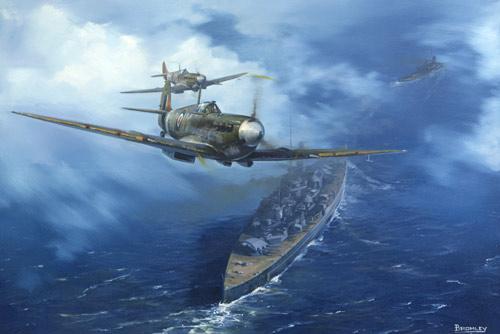 When the presence of the German ships in the Channel was established beyond doubt, Admiral Ramsey realised that these 6 old planes which had been standing by, on the assumption that a night attack would be ordered, were in fact the only aircraft immediately available to attack the German ships. But how could he send these slow planes out in daylight against the ferocious firepower of the German Battleships and accompanying heavy fighter escort? It would be certain death. Admiral Ramsey telephoned the First Sea Lord, Sir Dudley Pound, in Whitehall and pleaded with him not to be asked to send these 18 men on such a suicidal mission. Sir Dudley replied: "The navy will attack the enemy whenever and wherever he is to be found". Putting the phone down, Admiral Ramsey nodded to his Air Liaison Officer, Wing Cdr Constable-Roberts.
At Manston Lt Cdr Esmonde addressed his crews in a clipped voice. "The balloon's gone up. Get ready". It was of course essential that the vulnerable torpedo carrying biplanes should be given fighter cover for their run in. When Lt Cdr Esmonde's phone rang again, it was 11 Fighter Group,saying; "We intend putting in the Biggin Hill Wing of 3 squadrons as top cover with the Hornchurch Wing of 2 squadrons as close escort to beat up the 'flak' ships for you". The voice continued: "Both Wings have been told to rendezvous over Manston. What time should they be there?" Lt Cdr Esmonde glanced at his watch and said: "Tell them to be here by 12.25 hrs. Get the fighters to us on time - for the love of God".
At Dover Castle, despite Sir Dudley-Pound's ruling, there was evidently some misgivings, for Wing Cdr Constable-Roberts telephoned Esmonde again to stress that the Swordfish must go only if he was satisfied that the fighter cover was adequate. Both the RAF and RN officers on the spot felt that even with a heavy fighter escort, few Swordfish crews would return from this mission.
At 12.25hrs Eugene Esmonde waved his arm to signal the take off. As the 6 biplanes climbed into the air, the Commanding Officer of RAF Manston' Wing Commander Tom Gleave, stood alone in the middle of the snow covered airfield and gave a farewell salute. The Swordfish circled at 1,500 feet over the East Kent coast waiting for their fighter escort.
At 12.29hrs - 4 minutes after the arranged rendezvous time - the Swordfish were still circling over the coast off Ramsgate. The weather was thickening up but there was not a fighter to be seen in the sky let alone the promised 5 Spitfire squadrons. Only 10 Spitfires of No. 72 Squadron, commanded by Squadron Leader Brian Kingscombe, found the Swordfish and that was at 12.32hrs. The Swordfish and Spitfires circled for another 2 minutes but no more fighters arrived. Esmonde knew that it was case of 'now or never'. He wavedhis hand and dived down to 50 feet above sea level and led his squadron out to sea.
Squadron Leader Kingscombe at this stage had little knowledge of what was really happening. The security screen at this stage was still functioning. The orders which had been given to him were: "Get to Manston to escort 6 Swordfish and intervene between German E_Boats and British MTB's". He had thought it odd to be asked to intervene in a small naval scuffle, but just then it became obvious to him that there was a big flap on. He said later that as he made for the first of the Messerschmitt, "I saw a beautiful ship. I did not know that the Royal Navy had such a lovely ship".
---