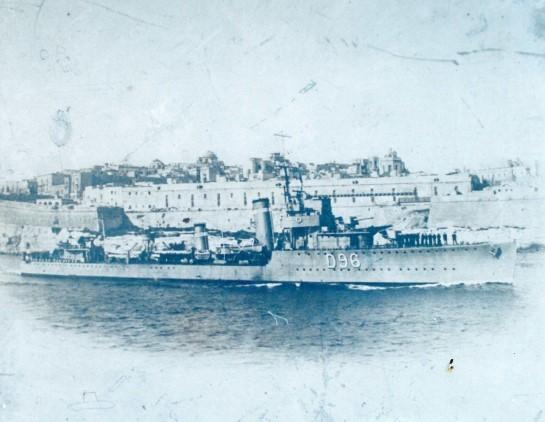 HMS Worcester in the Channel Action
12 February 1942
J.F.N. Wedge, then Sub. Lieut. RNVR
Following a boiler clean alongside Parkestone Quay we had been coming to 15 minutes notice for steam each evening, though at my lowly level I knew not why. It was therefore something of a welcome change that the 16th Destroyer Flotilla sailed on the morning of 12 February 1942 for gunnery practice at sea with a tug-towed target. As officer of quarters, pom-poms, mine was a passive roll, but my mental peace was severely shattered when Sub. Lieut. Bill Bowmer RNVR came down from the bridge to say "Roll on my .......... VC!' Proceed in execution of previous orders' We are to intercept the pocket battleships!". I went down the hatch in the iron deck to my cabin to get my Bible, which fell open at an agreeably reassuring passage...
We crashed our way at full speed through a choppy sea under low cloud, with little said. Aircraft appeared through the clouds now and then, mainly British and some apparently of the opinion that we were German.
"Enemy in Sight", battle ensigns hoisted, and a tense silence at the pom-poms which had earlier been in action against threatening aircraft. Dark shapes in the misty distance and our 4.7's began firing and the flotilla attacked. As I recollect, 'Worcester' was centre ship of the five and thus the main target of the enemy. The others released their torpedoes but Lt. Cdr. E.C. 'Dreamy' Coats R.N. Pressed on for what seemed an age before ours went, the last RDF (Radar) reading was just over 2000 yards.
We were already being hit but it was a relief at least to be turning away. However we continued to be straddled and hit and quite shortly were lying stopped.
The shelling ceased. In the silence no-one appeared to move. From the pom-poms it seemed inconceivable that anyone on the bridge could still be alive, giving the battering that the structure had taken. I walked the few yards aft to the 12-pounder gun, which had been hit. Gunner (T) L.G.C. Wellman R.N. was lying on the deck, conscious and not too badly wounded and for a moment I thought that he and I were the only officers left alive but miraculously No.1, Lieut. Anthony Taudevin R.N.V.R. appeared, and things took some sort of shape, unhappily not before some people had gone over the side.
As we wallowed, a Junkers 88 flew above, firing recognition flares, and later an R.A.F. plane dropped torpedoes at us. Quiet bodies lay in flats and Surgeon Lieut. D.C. Jackson R.N.V.R. And S.B.A. Shelley worked heroically on the wounded in various parts of the ship.
The Chief, Commissioned Engineer Hugh Griffiths R.N., and his team were achieving miracles, and an engine started turning. Two destroyers approached, 'Campbell' and 'Vivacious', (not German ones sent to finish us off, as I had feared !) and rescued some of our survivors from the sea, returning to Harwich to replenish torpedoes when Captain Mark Pizey in 'Campbell' (leader of our force) was satisfied that we were under way. Later we lost power again and we languished very anxiously in the dark before the Engine Room again triumphed and at about nine knots we made our way home to Harwich.
It had been a long, very cold and uncomfortable night on the pom-poms, and throughout the ship. As we approached land a 16th D.F. Hunt Class destroyer, 'Hambledon', appeared and offered assistance, proudly turned down by Lt. Cdr. Coats who indicated that we had managed so far on our own and would like to finish the job.
Alongside, after the sad disembarkation of the wounded and the dead, we were all checked by a medical team. I was completely deaf for a time - someone tried semaphore to talk to me ! - but most of my hearing returned sufficiently for me, with Bill Bowmer and Sub. Lt. Guy Agard-Butler R.N., incongruously to play word games that evening in the Railway Hotel with Beatrice Lillie, her agent and her sister, after an ENSA concert.
Among those killed was Telegraphist Dennis Gibson in the W/T Office which was in part of the bridge structure so badly damaged. Dennis and I had trained together at the beginning of the war after mobilisation of the R.N.V.R
Of the officers of the 'Worcester', who survived the action, Lt. F.W.L. Winterbottom R.N. Was later lost in a submarine, Guy Agard-Butler died in the Fleet Air Arm in Gibraltar, and Bill Bowmer in HMS Martin off North Africa. Dreamy Coats became a Commander went to a shore job and Anthony Taudevin eventually commanded a 'Captain Class' Frigate. 'Doc' David Jackson returned to practice in Brisbane after the war ended. His book, 'One Ship, One Company' includes his account of the action.
---
'HMS WORCESTER'
Two anxious hours to contemplate bleak death
At thirty knots consuming cold grey seas.
Action Stations, duffel coats, tin hats —
Below a throbbing engine room reprise.
Junkers aircraft bombing from the clouds
Brought urgency, then "Enemy in Sight!"
The forward four point sevens bellowed out
Their challenge to the battlecruisers' might.
Tall shell-spouts cased her as she turned to fire
Torpedoes. As they leapt, cacophony
Erupted, brute bombardment wrenched apart
The bridge, chewed steel in vicious gluttony.
Five minutes' devastation. Sudden peace,
Uncanny, as she wallowed without power.
Miraculously the lower hull survived
But Gibson, Dow and Grant, and twenty more
Lay dead. Doc Jackson's needle eased the pain
Of others. Pom-poms warned the RAF away.
Bizarrely, Junkers' recognition flares
Confirmed the wild confusion that day.
So, vulnerable, rolling helplessly
She lay for seeming hours. Then nervous ears
Rejoiced at turning screws. By fits and starts
She staggered home, a frozen fifteen hours.
John (Bill) Wedge Sub. Lieut. RNVR
(Published "Memories of War" [Sahara Publications]2007 and in "Hard Lying")
---